Looking for a watch that is both stylish and functional? Look no further than the Naviforce Watch! This top luxury brand watch is perfect for any man who wants a stylish watch that can also function as a reliable timepiece. Not only is the watch made of high-quality materials, but it also features a sleek design and a durable strap that will last for years. The built-in alarm function ensures that you never miss a beat, and the date and time display ensures that you always know what time it is. Whether you're going out for a night on the town or just running some errands, the Naviforce Watch is the perfect choice.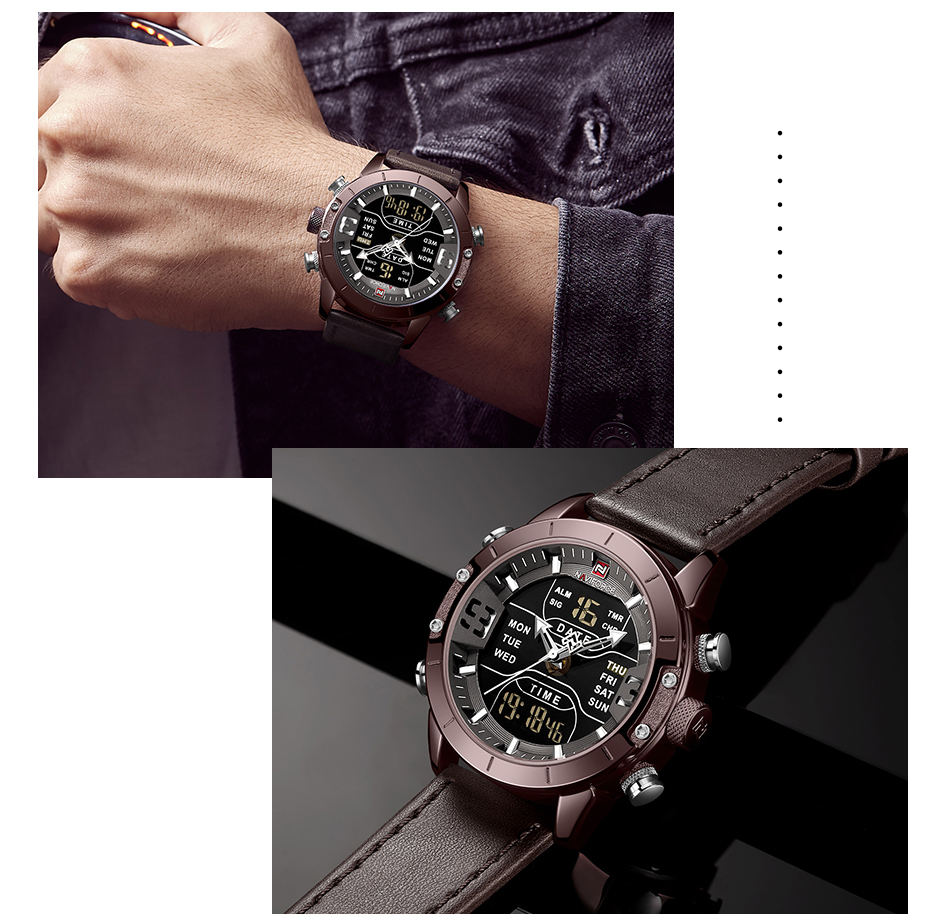 Description
100% New and high quality
Alarm outpout with 4 min, Snooze
Day, Date and Time Display
Chrime on every hour
Chronograph with and 1/100 lap operation
Dual Core
Analog and Digial display
EL (Blue) function
Hourly chime function
Stainless steel band
Water Reistant
Specifications
Case Material: Stainless Steel
Case Diameter: 45mm
Case Thickness: 16mm
Band Material: Leather
Band Length (include Case): 260mm
Band Width: 23mm
Weight: 96g
What's Included
100% NAVIFORCE brand new
1 x Analog and Digital Display with Alarm & EL Blue Function Watch
?
We Ship to Worldwide, except APO/FPO.
Country
Working Days (not including holiday)
5-7
8-11
12-14
15-19
20-22
>22
Working Days + Saturday + Sunday
5-9
10-15
16-20
21-25
26-30
>31
United States
Rate (item arrived)
5 .1%
50.1%
29.6%
10.5%
4.7%
United Kingdom
Rate (item arrived)
9.9%
63.2%
19.1%
3.4%
4.4%
Australia
Rate (item arrived)
21.4%
50.0%
14.3%
7.2%
7.1%
France
Rate (item arrived)
10.5%
28.6%
43.8%
10.1%
7.0%
Germany
Rate (item arrived)
11.1%
22.2%
30.3%
20.9%
15.5%
Canada
Rate (item arrived)
0.0%
47.1%
31.4%
17.6%
3.9%
Refund
Spain
Rate (item arrived)
3.5%
25.0%
47.9%
12.9%
10.7%
We accept alipay here.