Looking for the perfect gift for your child? Look no further than the Children Tracker Smart Phone Watch Waterproof Ip67 Lbs Position Sos Call Wristwatch Camera Ios! This smart watch is perfect for kids who are looking to track their activity or keep track of their dates. It comes with a digital display screen that shows the time and date, as well as a back light that lets kids see in the dark. It also has an auto date feature that automatically adjusts to the current date, making sure that your child never misses a special event. The watch is water resistant up to 3 bars and is compatible with most smartphones and tablets. It comes with a 22.5cm band that can be adjusted to fit any wrist size. Plus, it comes in a beautiful paper box that can be used as a nice keepsake. So whether you're looking for a special gift for a child in your life or want to treat yourself, the Children Tracker Smart Phone Watch Waterproof Ip67 Lbs Position Sos Call Wristwatch Camera Ios is perfect for you!
Kids Tracker Smart Watch Waterproof IP67 LBS position SOS call Wristwatch Camera IOS Android Phone Children Smart Clock Gift E18
The main parameters
Touch function: yes
Strap: Silicone
Chip: RDA 8955
GSM Frequancy support:850 900/1800 1900
Battery capacity: 400mAh
Charge time: 2H
Display Resolution: 128*128
Screen size: 1.44inch
Camera: 8W
Standby time: 3-4days
Run a memory: 32Mb
The fuselage memory: 32Mb
Size of watch: 224.8*40.1*15.8mm
Strap width:21mm
Dial thickness:14.5mm
Strap length:22.5cm
Dial diameter:41.5mm
Color: Blue, pink
Radiation: Lower than mobile phones, international standards, had no effect on the human body.
location ways:Base station positioning
Watch language: English, Russian, Spanish, French, Portuguese
Functions
Base station positioning, tracking, monitoring, phone book, intercom, watch alarm clock, security area, SOS emergency alarm, low power alarm, remote shutdown, flashlight(only for no waterproof version), games, taking photos and taking photos remotely
Tracker APP: SeTracker2
Package content:
1* smart Watch
1* Charger Cable
1* Instruction manual
1* Retailed Box
Note:
This watch has only LBS positioning. Its positioning error is usually about 1000 meters, depending on the signal strength of the mobile service provider.
This watch is IP67 waterproof. In order to ensure the safety of the child and the normal use of the watch,please make sure that
1. When wearing a watch, the depth of the water should not be more than one meter.
2. Do not immerse the watch in water for a long time.
3. The watch should not be placed in sea water because high salinity may damage the watch.
4. Do not wear the watch while bathing, steam may damage the watch.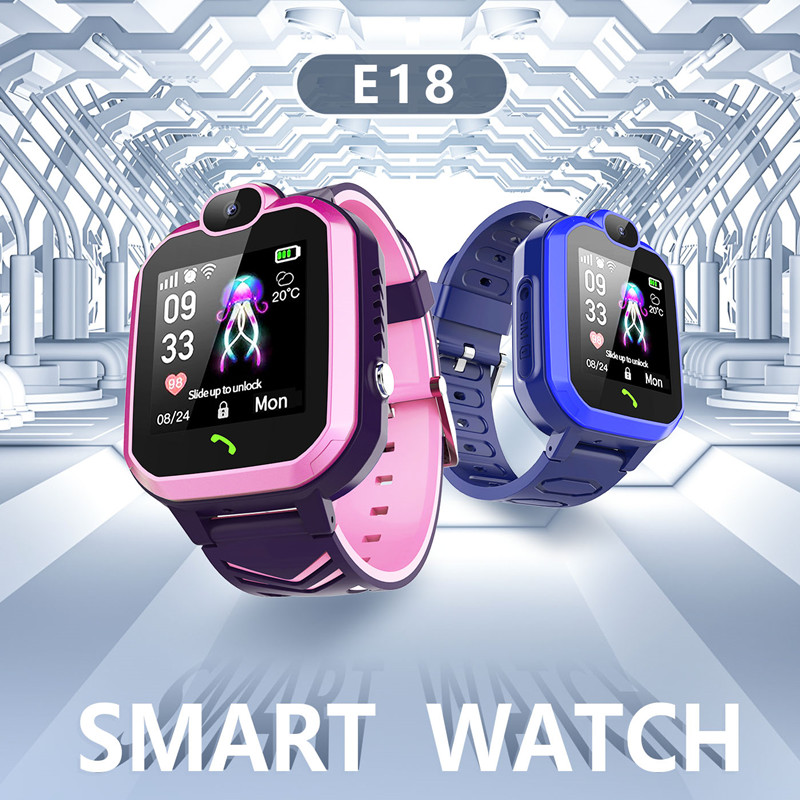 How To Use Tracker APP:
1.Scan QR code on the Instruction manual.
2.Download the APP "Setracker2" and Register Account.
3.Choose language and server area. After you scan the device ID and fill into the account name and password. You need to choose the language and server of your area before you finish it. there are 5 sever in the world now, they are Hong kong, Asia and oceania, North America, South America, Europe and Africa.
We have set the watch to the IP address of your country before sending the watch. Once the service area you choose is different with the IP address of the watch,The watch will not be able to connect to the network.
4.Scan QR code sticker (ID) on the back cover of the watch,or enter into the device ID, to bind the watch.Each watch has only one unique ID, it can only be used once, and it is the access to connect between watch and tracker APP.
5.After you complete the above steps to log in to the app and bind the watch device, then found that the watch can make a call but the GPS can't work,and the APP prompts that the device is not online.
It may be because the IP address of the watch does not belong to your country, or your mobile service provider is not on the server.
Please contact us immediately instead of opening a dispute, we will provide technical support to help you solve the problem.